Together with lyricist Stephen Watson, Jamie Hitel has completed two musicals – That Pig, Morin!, and A Stranger Love. Work on a third is in progress, set in Budapest, about the Hungarian Uprising of 1956.
That Pig, Morin!
Nineteenth-century France: small-town draper Morin, returning from business in Paris, is accused of advances towards a young woman on a train. His home town's most eminent man (and most eligible bachelor), Labarbe, is persuaded to intercede on his behalf, and soon meets Morin's alleged victim, the delectable Henriette…
Based on a short story by Maupassant, this not-quite romantic comedy has six main roles (3m, 3f) and a small chorus.
A Stranger Love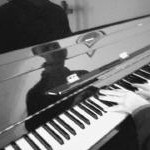 In this twisted comedy, Kate loves Nick, Nick loves Andrew, Andrew loves himself, and Ros… well, who can tell with Ros? With a marriage in trouble, an affair at the crossroads, and a one-night stand that doesn't know whether it's coming or going, this story is about the things that really matter: love, life and death (though not necessarily in that order).
Requiring only four actors (2m, 2f) plus musician(s), this grown-up musical makes an ideal late-night entertainment.