Jamie Hitel is Director of Music at Christ Church, Greenwich, Connecticut – a historical Episcopal parish just outside New York City.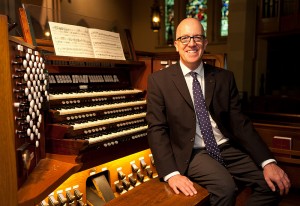 A widely-respected performer, composer, conductor and teacher, Jamie has held a variety of positions and performed in different settings across the globe. Formerly Director of Music at Waltham Abbey, England, Jamie moved to the USA in 2000. Since that time, he has worked within the Episcopal church, training choirs of boys and girls, drawing on repertoire from the Anglican choral tradition. His compositions include hymns, chants, anthems, and two stage musicals.
Jamie became Director of Music at Christ Church Greenwich in 2008, where his professional duties include directing the Choir of Men & Boys, the St Cecilia Choir of Girls, the Christ Church Scholars, and several other choral ensembles.
Jamie's interest in contemporary church music inspired him to establish a visiting artist program at Christ Church, which has resulted in several new commissions, most notably by leading British composer Philip Moore. Two of these are featured on a new CD recording of the St Cecilia Choir of Girls, released in April 2014.
When not directing choirs, Jamie Hitel maintains a busy solo organ recital career. Recital venues include St Paul's and Westminster Cathedrals, London, as well as Trinity Church, Wall Street, Saint Thomas Church, Fifth Avenue, New York City, and Saint Mark's Cathedral, Seattle.
Future engagements include a recital tour of Germany in September 2014, including a concert in Paderborn Cathedral.
Jamie, now an American citizen, lives in Riverside, Connecticut.